NVTC News & Events
By Jennifer Taylor

●

Oct 12, 2022
Smart Brevity® count: 3.5 mins... 959 words
Dear NVTC Members,
Happy October! I hope you are enjoying the start of fall 🍂🎃. 
Did you know our region ranks first in the nation in cybersecurity and is home to one of America's leading cybersecurity workforces? Cyber remains one of the nation's greatest security risks. Companies must protect their data and information systems now more than ever to ward off bad actors on the global stage. To stay current on the latest cyber trends and policies, don't miss NVTC's Capital Cybersecurity Summit and Awards on October 19 📆 at Capital One Hall.
Next up, on December 6, we'll host the Tech 100 Celebration. Please nominate companies, innovators, and NextGen leaders who have made a positive impact in our tech community. People are a company's greatest asset and this is a super opportunity for you to honor individuals for their contributions 🏆. Submit your nominations by October 21.
I am pleased to report NVTC just launched its website redesign project 🌐 with WebMechanix. The new website will be member-centric, making it easier to register for events, connect and network with your peers, and access member benefits! The site will showcase member impact stories and is planned to launch mid-2023. I can't wait for you to see it!
Sincerely,
Jennifer Taylor, NVTC President and CEO
1. Employment by the numbers
U.S. Jobs Report - September 2022
The bottom line:
+263,000 jobs added, with notable gains in leisure and hospitality, and healthcare.

Unemployment dropped to 3.5% with 5.8 million unemployed.

Number of job openings decreased to 10.1 million.

Labor force participation rate of 62.3% is 1.1% below pre-pandemic levels.
Interestingly, as people continue to return to the workforce, consumer spending remains strong, further contributing to rising inflation rates.
2. One week left — will we see you?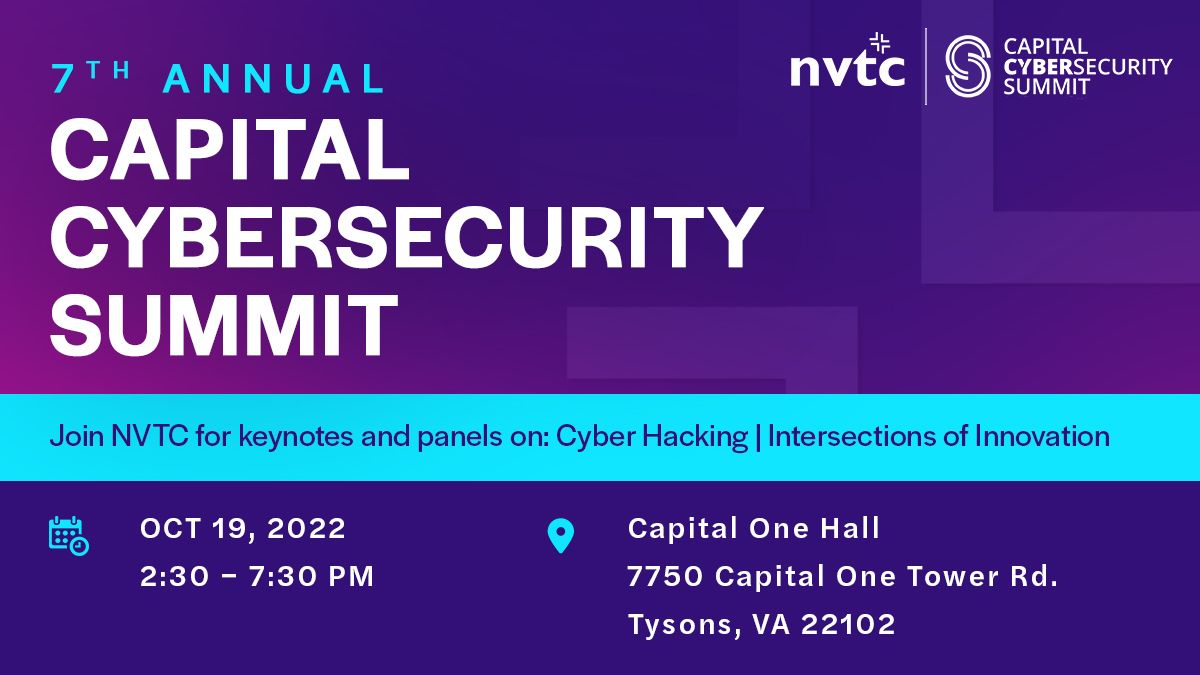 Don't forget to register for NVTC's Capital Cybersecurity Summit and Awards on October 19!
Keynote moderator Amit Yoran, Tenable Chairman and CEO, will host a fireside chat with:
Sue Gordon, Former Principal Deputy Director, Office of the Director of National Intelligence

Joe Lea, President of Shift5
Why it matters: Hear cyber hacking stories from the front line and learn about cutting-edge ways to combat hackers. Panelists include experts from Amazon Web Services, Cognizant, Dark Wolf Solutions, Expedia, GroupSense, Inova, King & Spalding, MITRE Labs, and Tracepoint.
Capital Cyber Award winners will also be announced. Congratulations to our finalists:
Commercial Cyber Company
Over $50M in Revenue: CyberRes | MicroFocus | GuidePoint Security LLC | Sonatype | Splunk | Telos Corporation

Under $50M in Revenue: Expel | Fend Incorporated | Racktop Systems Inc. | Secure G | Shift5 | ThreatQuotient
Cyber Government Contractor
Over $50M in Revenue: CACI International Inc | Gunnison Consulting Group | ID Technologies | Iron Bow Technologies | Noblis | Two Six Technologies

Under $50M in Revenue: Avint, LLC | Dark Wolf Solutions, LLC | Electrosoft, Inc. | Intelligent Waves
What's next: Get your ticket!
3. Meet NVTC's new Board members!
NVTC recently welcomed three new members to its Board of Directors.
Why it matters: The NVTC Board of Directors includes executives from our area's leading tech firms and service providers, who are committed to making our region a thriving and impactful tech hub.
5. Don't miss these fall events
6. Welcome new NVTC members
Welcome to NVTC: Cognizant, CyberCulture, ECS Federal LLC, Edgemoor Infrastructure & Real Estate, Fluxus, LLC, Infotek Consulting, Inspiren Tech Solutions LLC, JLL, Northeastern University Arlington, Shift5, Withum.
NVTC President and CEO Jennifer Taylor facilitated a panel discussion at the P3 Higher Education Summit about Fuse at Mason Square, an innovative public-private partnership project.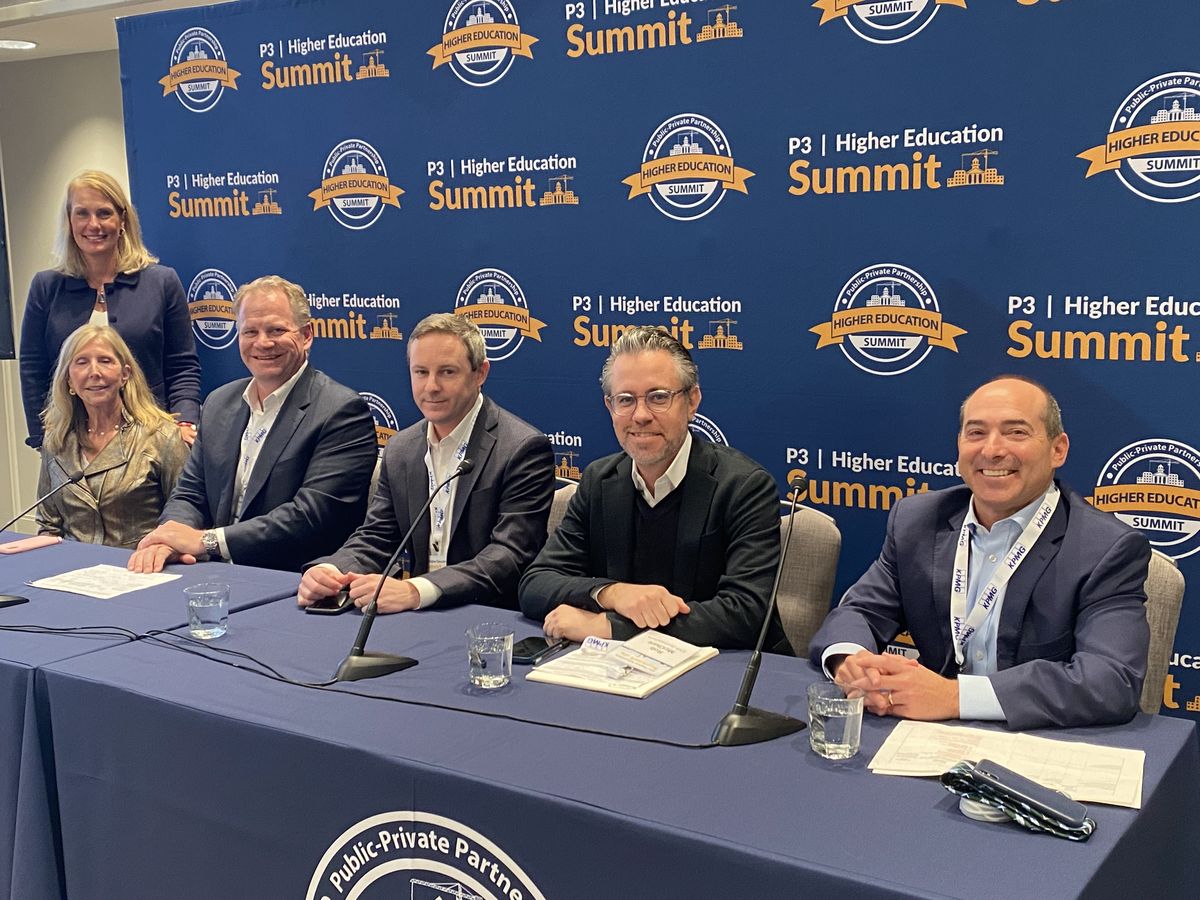 Jennifer Taylor (standing) with panelists (l-r): Carol Kissal, George Mason University; Jim Hennessy, Harrison Street Real Estate Capital; Brian Naumick, Edgemoor Infrastructure & Real Estate; Rob McClure, EYP Architecture; and Andy Klaff, Newmark.
Technical.ly Editor Sameer Rao interviewed Jennifer Taylor at DC Startup Week. His follow-up article summarized Taylor's three essential tech ecosystem forecasts.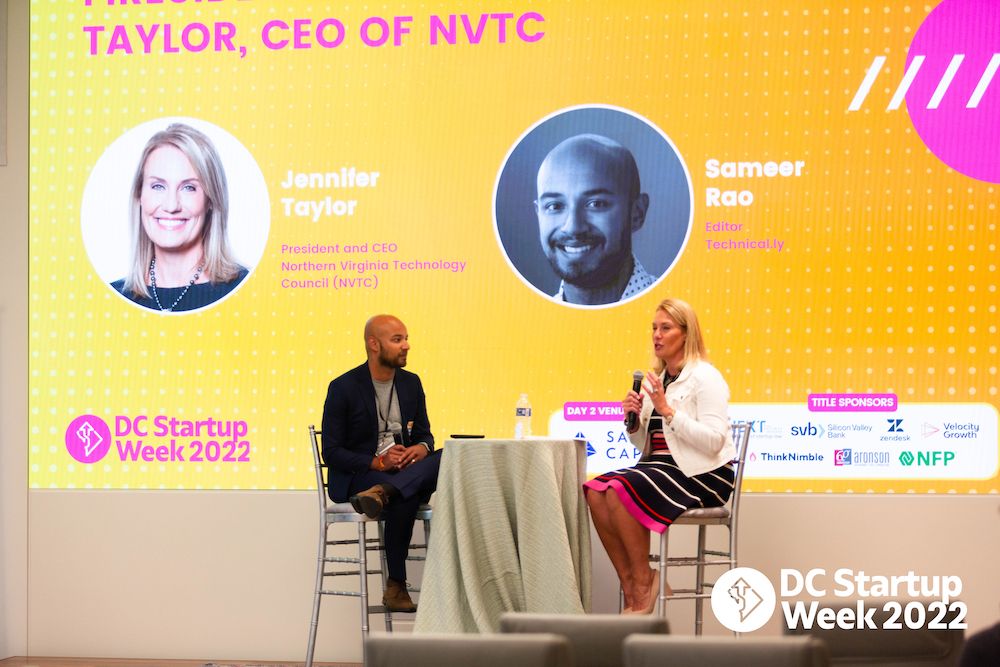 Sameer Rao and Jennifer Taylor.
The NVTC Board of Directors met with John Ladd, administrator at U.S. Department of Labor Office of Apprenticeship, and Gary Pan, commissioner of Virginia Department of Labor and Industry, to discuss how members can participate in Registered Apprenticeship.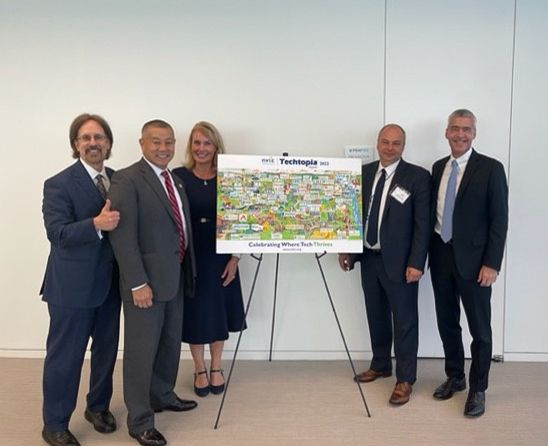 (l-r): NVTC Chair Greg Baroni, Gary Pan, Jennifer Taylor, John Ladd, and NVTC Vice Chair Bruce Caswell.
NVTC staffers invited tech students to connect and network with NVTC member companies at Marymount University's Career Fair, where nearly 30 students registered for an NVTC student membership. Know a student who would like to join NVTC to expand their network? Invite them to join here.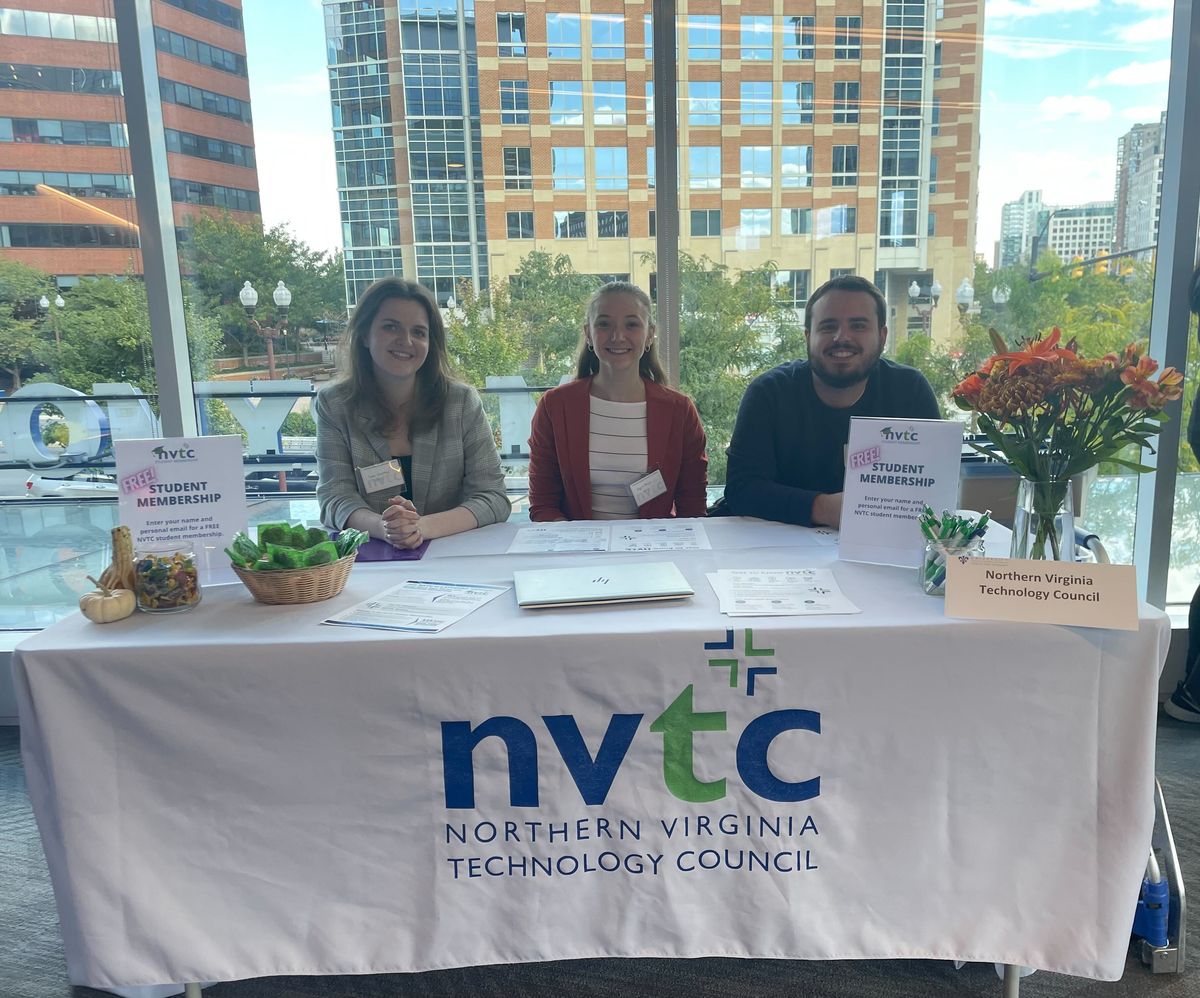 (l-r) NVTC's Sami Lawrence, Ingrid Bayer, and Colin Krafft.
Did you happen to see NVTC Board member and ScienceLogic founder and CEO Dave Link's LinkedIn post about his figs? This video's success prompted him to launch a leadership video series. Who else is excited to see what's next?
Not a member? Join NVTC today!
NVTC connects, educates, advocates, and celebrates our region's vibrant tech community.
Don't miss out. Join NVTC and be a part of where tech thrives!
Thank you WebMechanix for supporting NVTC by sponsoring this newsletter. Please contact Tarin Horan to learn about advertising opportunities for your organization.
Feedback
Anonymously tell us what you thought of this newsletter. Your responses will help us create better content for you!
Was this edition useful?
Special offer for NVTC members
- Get one month free when you purchase Axios HQ, a tool for data-driven internal communications.
Sign-up for a demo today.
Northern Virginia Technology Council
1069 W. Broad Street, Suite 743
Falls Church, VA 22046