NVTC News & Events
By Jennifer Taylor ● May 25, 2023
Smart Brevity® count: 5 mins...1351 words
Dear NVTC Members,
As we approach the start of summer, NVTC gears up to close out another fiscal year on a high note! 🎵 We are thrilled to share that NVTC has sold out ALL of its Signature Events this year — most recently, Impact AI.
Other great news: NVTC will launch a new regional workforce initiative called Aim High tomorrow in partnership with NOVA and FCPS. (See #1 below.) Aim High will give high school students real-world experiences to see tech-related jobs up close to inspire them to develop skills and/or pursue degrees that lead to in-demand careers.👩‍💻
What's on deck this June? Don't miss:
NVTC CFO Awards (27th Annual) on June 5 — This event will sell out, so buy your tickets today.

NVTC Intern Reception (2nd Annual) on June 21 — Interns working at NVTC member companies can register here for complimentary tickets.

NVTC's Annual Membership Meeting on June 28 — Join us and hear from keynote Carly Fiorina, former HP CEO. She will address how our region's tech industry can prepare to celebrate our nation's Semiquincentennial — the 250th anniversary of the 1776 United States Declaration of Independence. (Now, that's a word you don't hear often!)
Please scroll below to see photos, updates and ways to network with industry peers through NVTC!
I wish everyone a Happy Memorial Day weekend and hope you take a moment to remember our nation's veterans who sacrificed their lives to protect our democracy. ❤🤍💙
Sincerely,
Jennifer Taylor, NVTC President and CEO
1. NVTC launches new workforce initiative this Thursday 5/25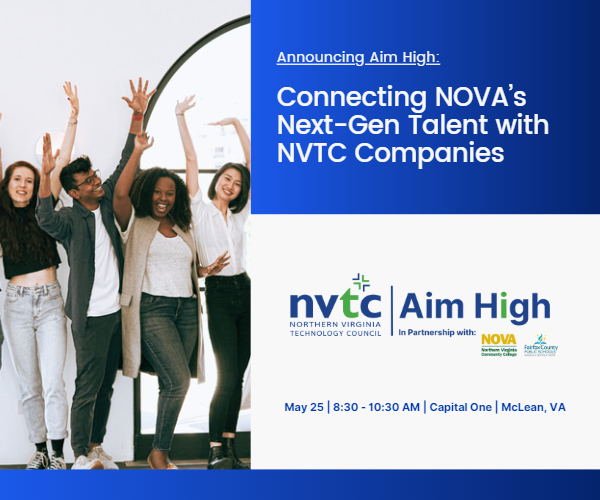 Tomorrow NVTC will announce its new workforce initiative, Aim High, that will pair 500+ high school students with our region's tech companies for career exposure, training, mentorship, and internships. Participating companies will offer on-site educational sessions, hands-on workshops, tours of maker spaces, networking, and more during the 2023-24 academic year.
Why it matters: NVTC and its member companies are committed to mitigating the region's skills gap. Northern Virginia has more than 130,000 open jobs.
19 Aim High Champions will host students during the upcoming school year. (Amazon, ASRC Federal, Booz Allen Hamilton, BTR Fiber Optics, Capital One, CGI, Deltek, GDIT, Iridium, Maximus, Microsoft, Monster, National Science Foundation, Noblis, SAIC, Software AG Government Solutions, Splunk, Unanet, and Van Metre Companies)
What's next:
2. Impact AI continues NVTC's yearlong event sell out streak!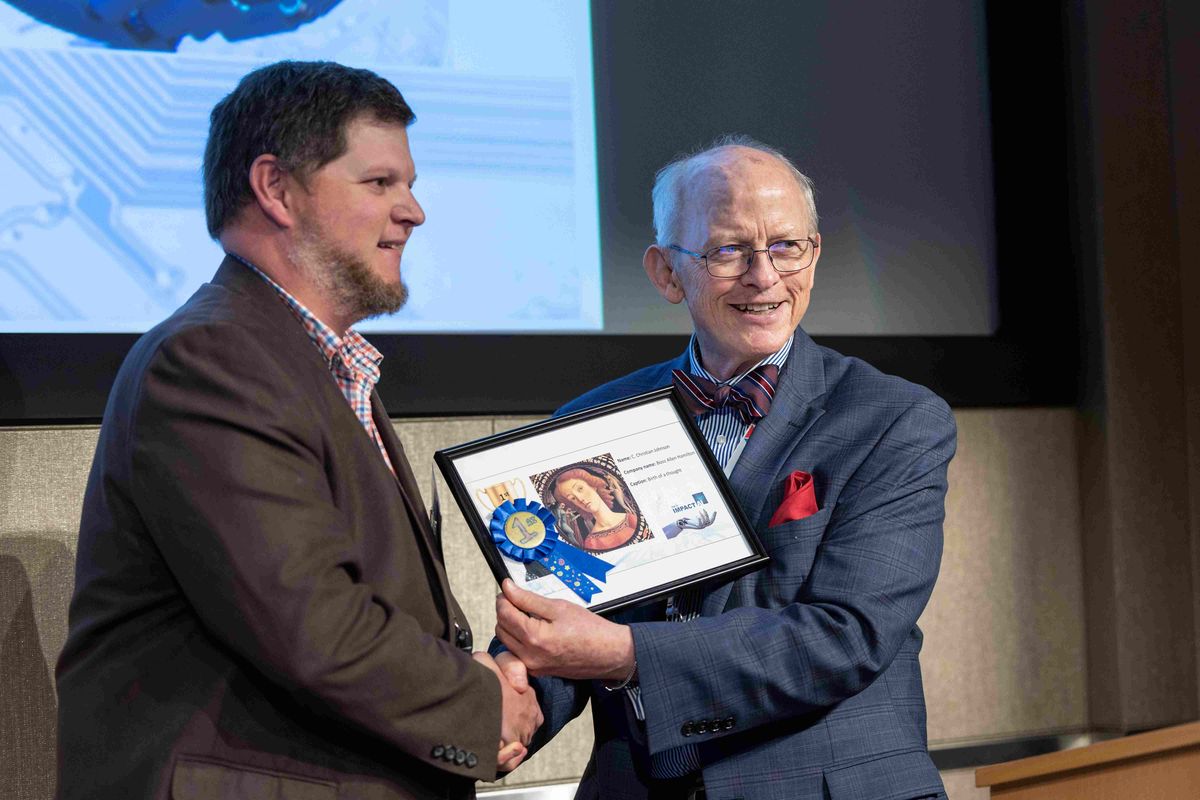 Brett Berlin, George Mason University (right) presents Christian Johnson, Booz Allen Hamilton (left) with a certificate for his art created with Craiyon.com. Johnson won first place in NVTC's first-ever generative AI art contest for his piece titled "Birth of a Thought".
NVTC hosted the region's premier artificial intelligence (AI) event, Impact AI on May 9. What an exciting time to be at the forefront of this hot topic.
NVTC welcomed keynotes Vint Cerf, 'father of the Internet' and Google's Chief Internet Evangelist, and Dr. Bill Streilein from the DoD's Chief Digital and Artificial Intelligence Office.
Why it matters: We are surrounded with an abundance of stories about how generative AI is applied in industries, from autonomous driving, news reporting, music and entertainment, to military operations, and more. You can't read the news without hearing about AI's exponential growth.
Go deeper: Experts shared how generative AI and GPT–4 are used in government, healthcare, and business, all while addressing the differences between ethical and responsible AI. Check out the highlight video and event photos to see what (and who) else you missed!
3. See where we've been this spring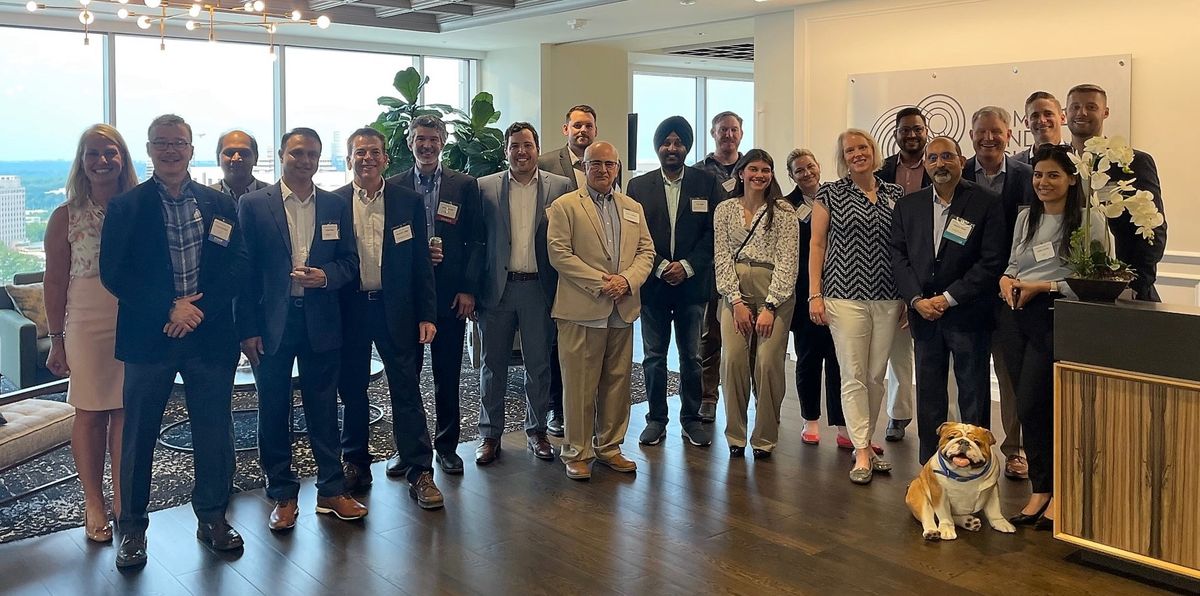 NVTC Digital Transformation COI members enjoyed networking and spectacular views from the Womble Bond Dickinson offices in the Boro last night. We learned about one another's businesses and how they help companies across the region digitally transform.
Thank you sponsors: Cadmus Group, Fairfax County Economic Development, Outsystems and Womble Bond Dickinson.
One fun thing: How realistic does Womble's dog sculpture, Winston, look? We found some Georgia Bulldog fans in the house!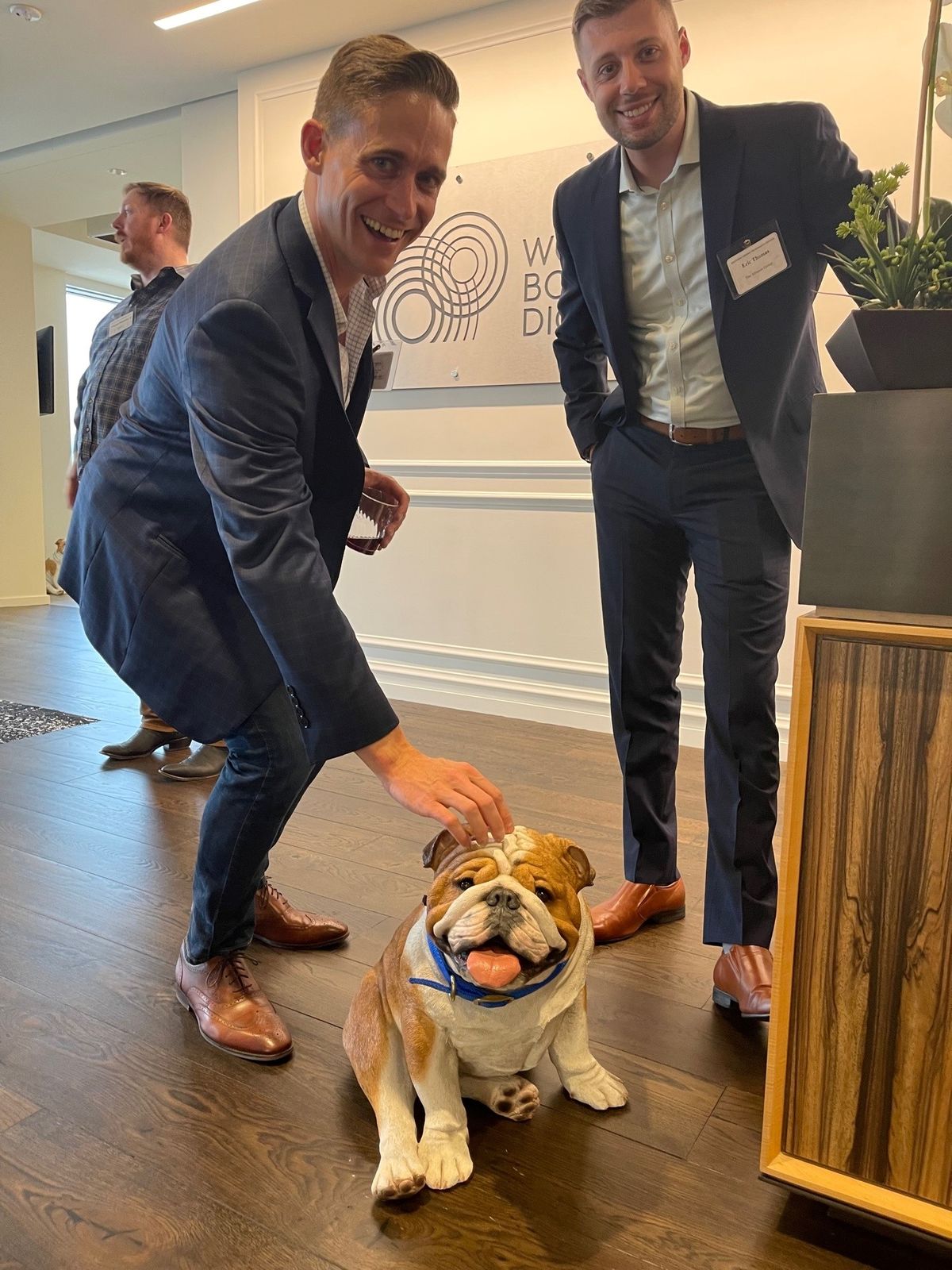 Josh Asselin and Eric Thomas, the Alliance Group, with "Winston"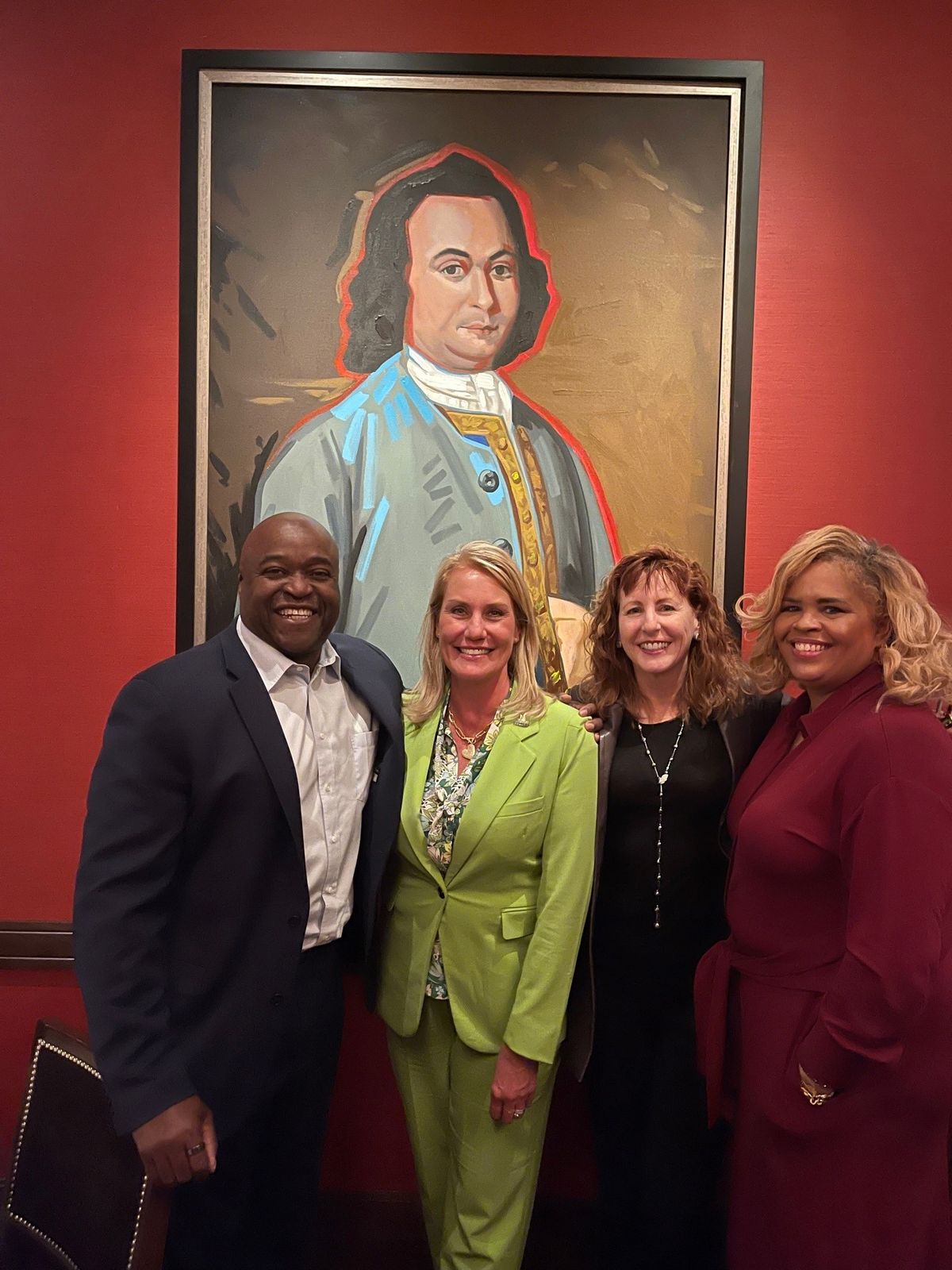 (l-r) Dr. Gregory Washington, Jennifer Taylor, Paula Sorrell, and Trishana Bowden in front of a vibrant portrait of George Mason University's namesake
NVTC President and CEO Jennifer Taylor met with George Mason University President and NVTC DE&I Officer Dr. Gregory Washington, AVP of Innovation and Economic Development Paula Sorrell, and VP for Advancement and GMU Foundation President Trishana Bowden to discuss strategic areas for collaboration.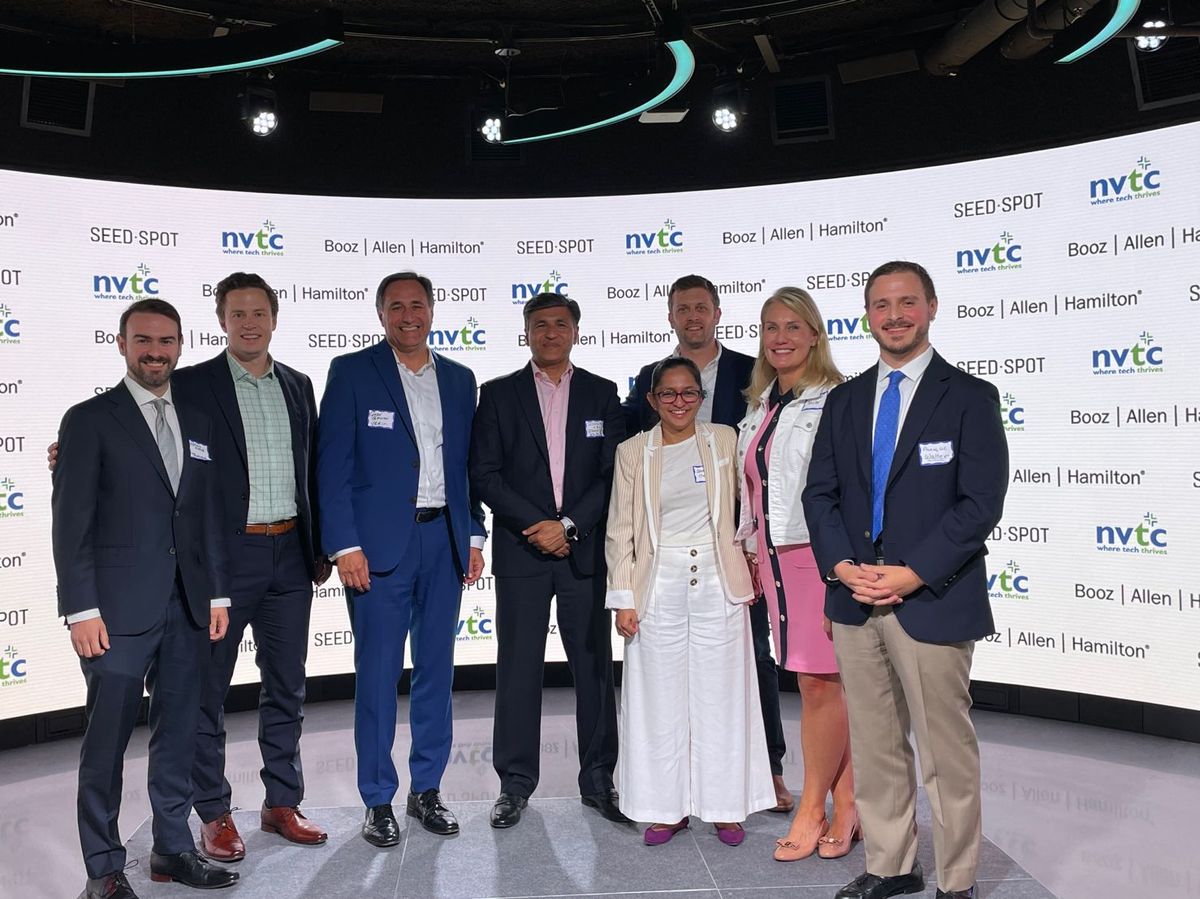 (l-r) Gerald Kierce Iturrioz, Trustible; Zach Leverenz, Seed Spot; Gabe Galvan, Veriti; Jogesh Bagga, Zanadu Health Inc.; Shavini Fernando, OxiWear; Ian Penfield, Booz Allen Hamilton; Jennifer Taylor, NVTC; Walter Gawlak, Fluxus, LLC
Booz Allen Hamilton and SEED SPOT hosted the final event in NVTC's TechVenture series on May 17 in Washington DC. Attendees enjoyed presentations from five NVTC startup members.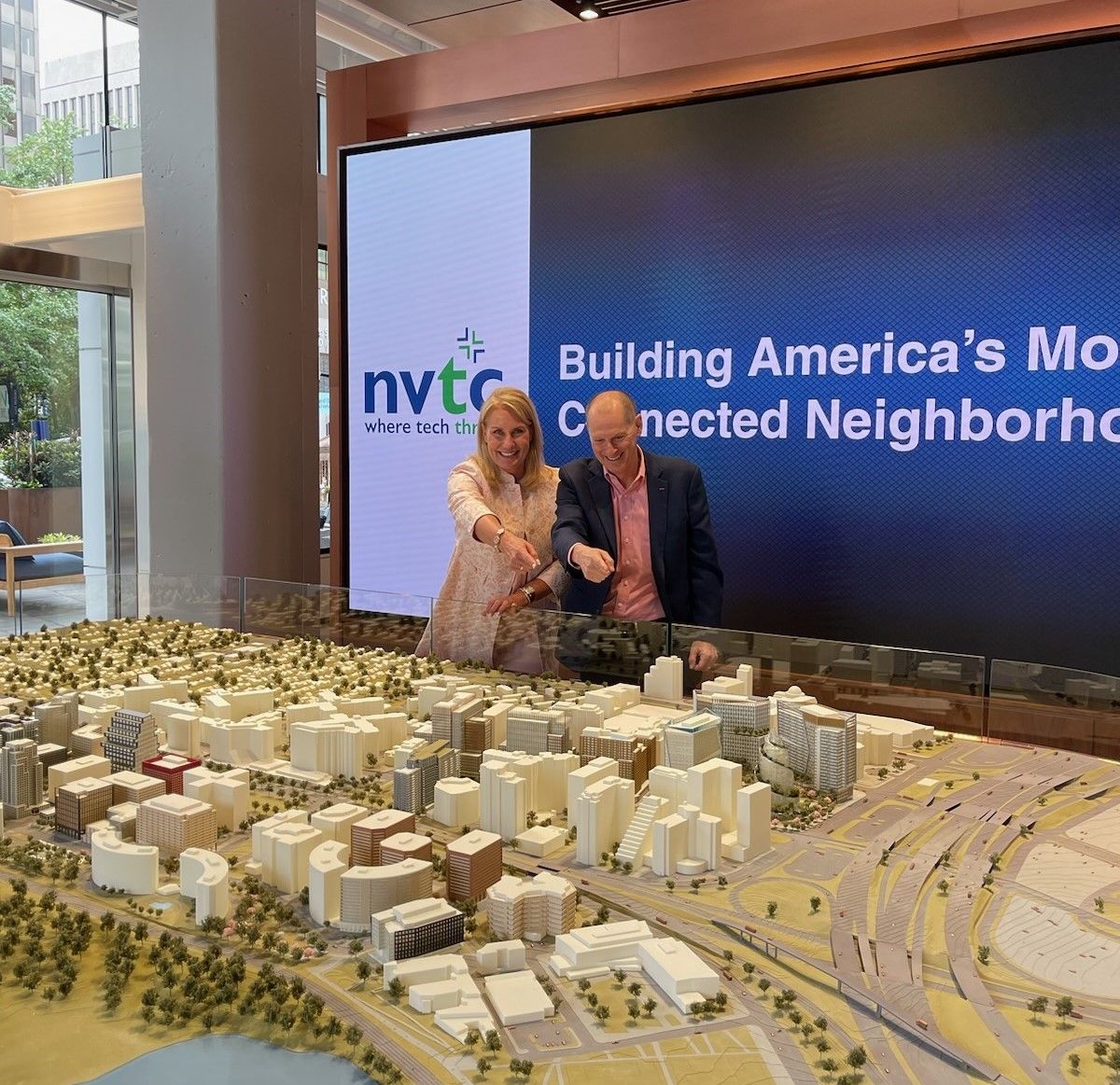 (l-r) Jennifer Taylor and Gary Shapiro, President and CEO of Consumer Technology Association point to the new Amazon HQ2 Helix building currently under construction in the new National Landing tech corridor. Can you locate it?
NVTC hosted an event titled "Building America's Most Connected Neighborhood" at the National Landing Experience Center on May 2. JBG Smith is orchestrating the unprecedented transformation of Crystal City historically known as an '8-hour environment' into a vibrant, mixed-use urban destination anchored by Amazon, Virginia Tech, and the Pentagon — all enhanced with major public infrastructure advancements.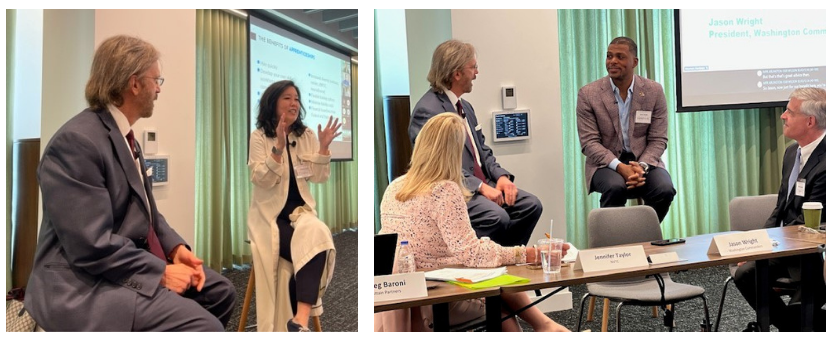 Left: Greg Baroni with Michelle Rhee; Right: Baroni and Jason Wright
NVTC's April 26th Board of Directors meeting featured two compelling guest speakers. First, NVTC Chair and Attain Partners Founder and CEO Greg Baroni hosted a fireside chat with Washington Commanders President Jason Wright. Then, the Board heard remarks from BuildWithin Co-Founder and Former Chancellor of DC Public Schools, Michelle Rhee.
WashingtonExec's JD Kathuria (second from right) with NVTC Board members (l-r) John Wasson (ICF), Donna Morea (Adesso Group), Chief Lifetime Achievement Award recipient Sudhakar Kesavan (ABM Industries), and Bruce Caswell (Maximus).
Congratulations NVTC Chair Emeritus Sudhakar Kesavan and ABM Industries Chair, for receiving the Lifetime Achievement Award at the 2023 Chief Officer Awards. NVTC Vice Chair and Maximus President and CEO Bruce Caswell emceed the ceremony. Other NVTC member honorees included Board member Doug Wagoner, LMI CEO, and executives from ASRC Federal, ICF, and OPEXUS.

4. Calling all leaders: Do you set aside time to 'regenerate'?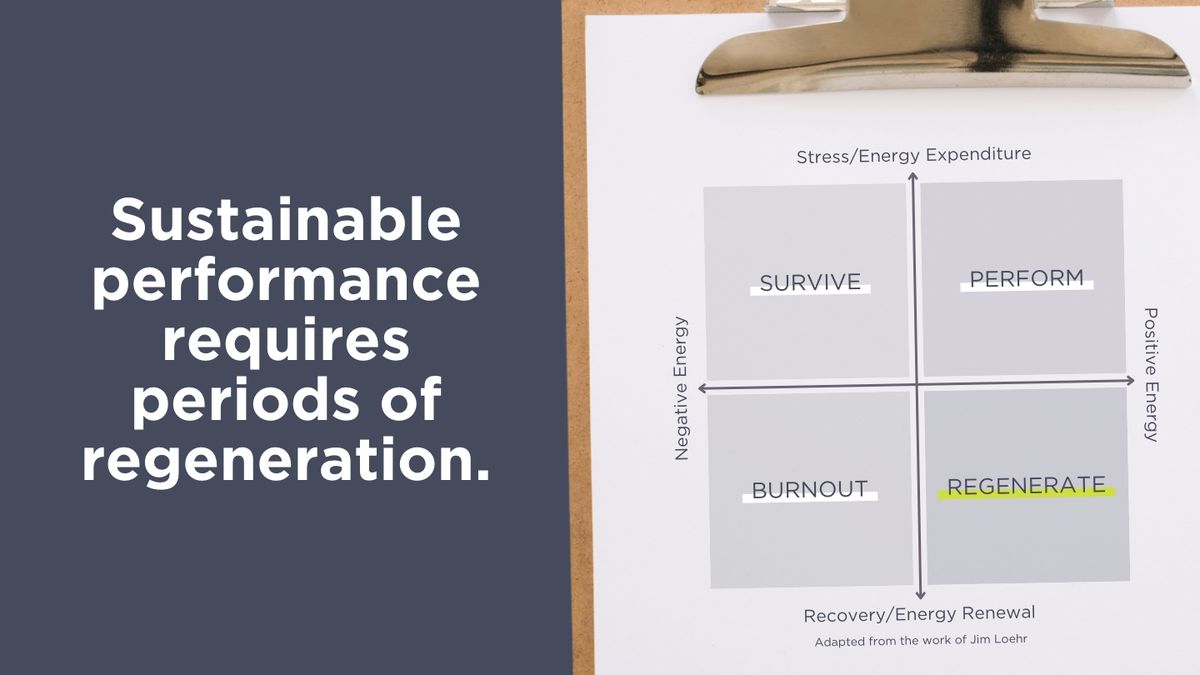 The following blog is written by Andrew Deutscher, CEO and Founder of Regenerate.
While most of us leaders want to consistently function in a high-performance state — taking on more each day and looking invincible — we simply can't ride the crest of high achievement forever.
At some point, leaders have to power down and have two choices:
Either come down into survival mode because we have to

Or, come down in recovery mode, because we choose to restore ourselves and prepare for the next challenge
The bottom line: When we recognize the value of recovery and the regenerative state, we can ensure we're prepared to reliably show up in the "performance state" and have the capacity to meet the persistent demands of life and work.
Go deeper: Learn more about understanding and harnessing energy to create leadership capacity. Check out these useful strategies to easily incorporate into your day.
Join us for these upcoming NVTC events:
6. NVTC's membership continues to see double digit growth!
The Deltek Clarity Government Contracting Industry Report (14th annual) is now available! Download this comprehensive resource to help advance your competitive position within the GovCon industry.  
The George Washington University (GW) launched a new quarterly newsletter that spotlights research discoveries and innovations from across the university community. Check out the inaugural issue and subscribe here.
If you would like to include your industry announcement in future NVTC newsletters, please email info@nvtc.org.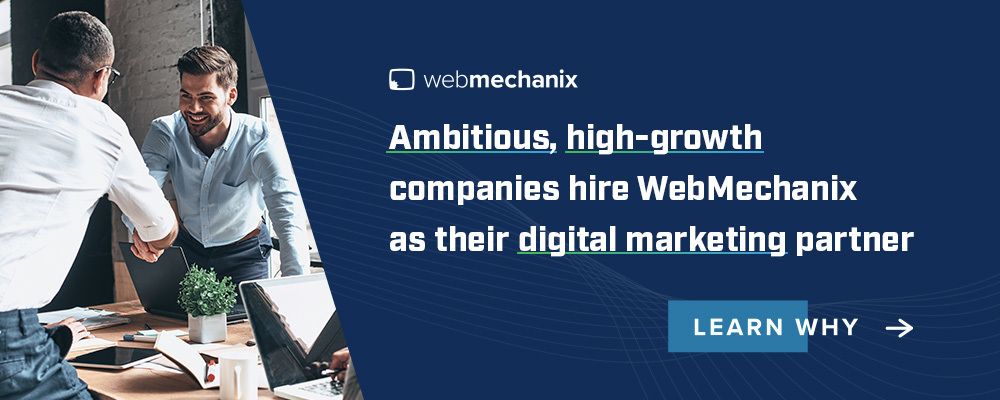 8. Unique access to the region's only vast and vibrant tech community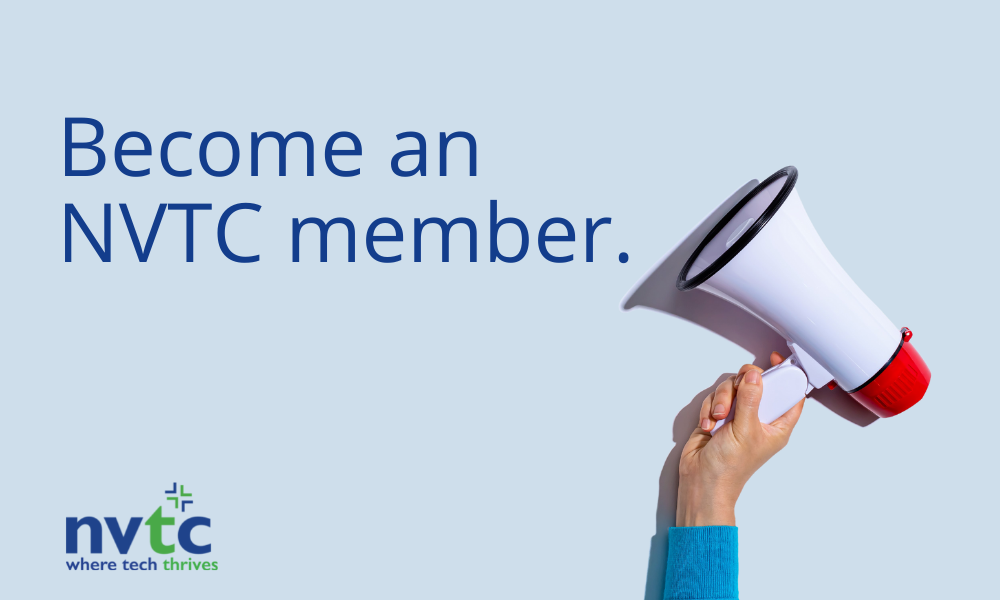 NVTC connects, educates, advocates for, and celebrates our region's vibrant tech community.
Don't miss out: Join NVTC! Grow your people. Grow your brand. Grow your business.
Feedback
Anonymously tell us what you thought of this newsletter. Your responses will help us create better content for you!
Was this edition useful?